Time
Our weekly gathering is Sunday morning at 10:00am.
We also have a Bible Class for all adults at 9:00am every Sunday.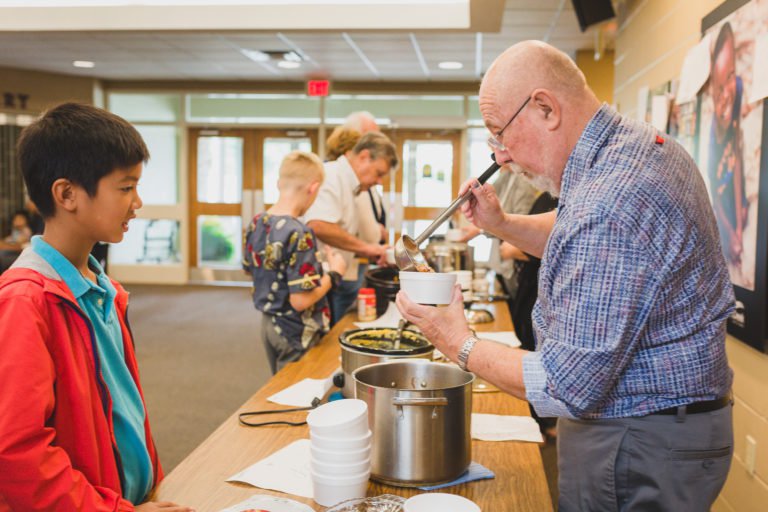 Welcome Desk
Please drop by our Welcome Desk; our volunteers will be able to answer any questions that you have about the church, special events, and ministries of Stoney Creek.
Worship
Our worship time normally includes singing, prayer, stories of how God is at work, and preaching from the Word of God. The songs we sing are a mix of newer choruses and older hymns. The words to these songs are displayed on the screen at the front of the auditorium.
Public Transportation
At this point in time, no LTC bus comes by the church. Though this will likely change in the near future with the development of the area, we are only accessible by personal vehicle. If you need a ride, please contact the church; we'd be happy to have someone come and pick you up!
Children
We ask that every parent or guardian fill out a one-time pre-registration form prior to your first time with us. This form can be filled out in your child's classroom on the day of, or ahead of time online through the link below.
Children are extremely important to us at Stoney Creek. Nursery and classes are offered for children of all ages. To protect your child, we use a matching tag system for children nursery to SK. These tags serve two purposes: to notify you if we require your assistance, and to allow us to release the child only to the bearer of the matching tag. Should an issue arise in which we require your assistance, your tag number will be displayed on the two black monitors at the front of the auditorium. Simply go to the back of the auditorium and speak to an usher or go directly to your child's classroom. JK-SK, 2 & 3 year olds, and nursery-aged children begin their program at 10:00am in their specific rooms.
Children in grades 1-5 join their families in the main auditorium for the beginning part of the service and are dismissed later to their classes. They will exit the main auditorium doors to their classrooms. If you're visiting for the first time, you'll be invited to leave with your children at that time to register them at their classroom.
Dress Style
There is no dress code. You'll see people wearing casual clothes like jeans and t-shirts as well as business-casual clothes. Please just come as you are.
Planning a visit?
If you're coming in person, registration is no longer required; just show up Sunday morning and find a seat!